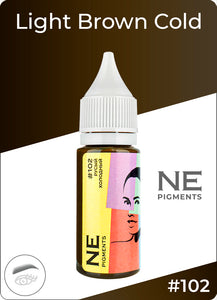 NE Eyebrows pigment #102 - Light Brown Cold
Temperature: neutral, cool.
Base: yellow, sand color.
Who is it suitable for: suits contrasting blondes with normal to thin skin for powder technique, transparent shading. Fitzpatrick I, II.
Light brown hair with normal to thin skin, you can add a yellow corrector or use warm light brown on thick skin. To make it warmer, but not lighter, add deep brown color.
Technique:
 Shading,
dense shading, hair strokes with a warm corrector.
Volume: 15 ml
Ingredients: AQUA, CI 21110, CI 21095, CI 77266, ROSIN, GLYCERIN, CI 21108, CI 74160, CI 12477, CI 77491, CI 77891, HAMAMELIS VIRGINIANA EXTRACT, ISOPROPYL ALCOHOL, BENZYL ALCOHOL