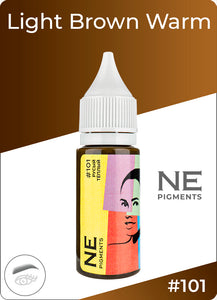 NE Eyebrows pigment #101 - Light Brown Warm
Temperature: very warm.
Base: yellow, ripe wheat color.
Who is it suitable for: suits blond, light brown, medium chestnut hair.
Fitzpatrick I, II and III
May look too yellow when healed on thin and warm skin, with superficial and light color packing. Can be mixed with cold light brown for some coldness.
Technique: shading, hair strokes technique.
Volume: 15 ml
Ingredients: AQUA, CI 21110, CI 21095, CI 77266, ROSIN, GLYCERIN, CI 21108, CI 74160, CI 12477, CI 77491, CI 77891, HAMAMELIS VIRGINIANA EXTRACT, ISOPROPYL ALCOHOL, BENZYL ALCOHOL