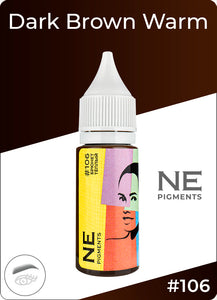 NE Eyebrows pigment #106 - Dark Brown Warm
Temperature: neutral, warm.
Base: orange, yellow.
Who is it suitable for: suits contrasting light brown hair, faux blondes with bright eyebrows, contrasting brown-haired people with warm skin, brunettes of all shades.
Suits thick skin. Work on any skin without going deep.
Fitzpatrick III, IV, V, VI.
Technique: Dense shading, air shading, hair strokes.
For transparency, dilute it with pigment thinners.

Volume: 15 ml
Ingredients: AQUA, CI 21110, CI 12477, CI 21108, CI 77266, ROSIN, GLYCERIN, CI 77491, CI 77891, CI 74160, HAMAMELIS VIRGINIANA EXTRACT, ISOPROPYL ALCOHOL, BENZYL ALCOHOL