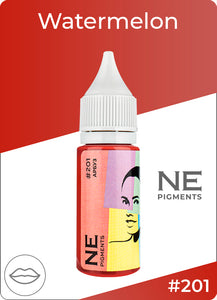 NE Lip pigment #201 - Watermelon
Temperature: warm.

Base: pink, orange, white.
Covering: suitable for covering and mixing with rich colors.
The lightest pale pink, base color. Ideal for mixing with any rich shades suitable for certain color types of appearance.
Suits pure color types - autumn, spring, summer, but only if the lips have little pigment and a nude effect is needed.
Volume: 15 ml
Ingredients: AQUA, CI 77891, CI 77491, ROSIN, GLYCERIN, CI 12477, CI 21096, HAMAMELIS VIRGINIANA EXTRACT, ISOPROPYL ALCOHOL, BENZYL ALCOHOL