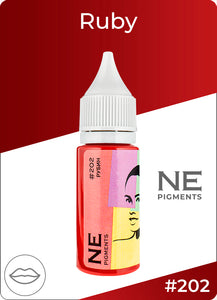 Sale
NE Lip pigment #202 - Ruby
Regular price $30.00 $60.00
Temperature: warm.

Base: red, orange.
Intense red color. Can be mixed with base color to reduce saturation for dense, lipstick color packing to change lips shape. Dilute it when working in watercolor technique.
Who is it suitable for: warm color types of appearance - spring, autumn. Can be used to warm up cold lips.
Technique: watercolor, lipstick, contour with shading - only if the color matches the natural color of the client's lips. Do not use on thin lips, bright color will make them look thiner.
Volume: 15 ml
Ingredients: AQUA, CI 77891, CI 21095, CI 12477, CI 12475, CI 12466, CI 21096, ROSIN, GLYCERIN, CI 77266, HAMAMELIS VIRGINIANA EXTRACT, ISOPROPYL ALCOHOL, BENZYL ALCOHOL