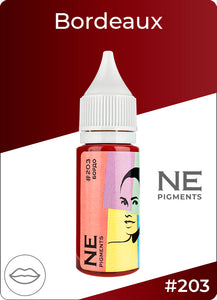 Sale
NE Lip pigment #203 - Bordeaux
Regular price $30.00 $60.00
Temperature: cold.

Base: red, blue, gray.
Saturated scarlet, cool. Can be mixed with base color to reduce brightness on thick, lipstick coverings or to change the lips shape. You can use it pure or diluted, for watercolor technique.
Who is it suitable for: Suitable for cold color types - winter and summer; be careful and use a corrector when working with cold lip shades.
Technique: watercolor, contour with shading, lipstick with caution, because the color is very bright and cool. Lipstick effect should be mixed with base color.
Volume: 15ml
Ingredients: AQUA, CI 12475, CI 12466, CI 21096, ROSIN, GLYCERIN, CI 77266, HAMAMELIS VIRGINIANA EXTRACT, ISOPROPYL ALCOHOL, BENZYL ALCOHOL