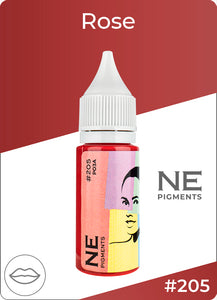 Sale
NE Lip pigment #205 - Rose
Regular price $30.00 $60.00
Temperature: cold.

Base: pink, grey, blue. Cold bright color.
Who is it suitable for: suits cold color types - summer and winter, if the natural lip color is not cold. It may look violet on cold lips.
Technique: watercolor on white lips, lipstick only mixed with base color for softening, contour with shading on cool lips similar in color, only to create a more defined lip shape.
Volume: 15ml
Ingredients: AQUA, CI 12475, CI 12466, CI 77891, CI 77491, CI 73915, ROSIN, GLYCERIN, CI 77266, CI 12477, CI 21096,HAMAMELIS VIRGINIANA EXTRACT, ISOPROPYL ALCOHOL, BENZYL ALCOHOL