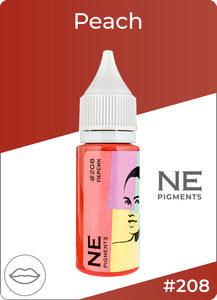 Sale
NE Lip pigment #208 - Peach
Regular price $30.00 $60.00
Temperature: warm.

Base: orange, pink, brown. Ripe peach color, very soft and warm.
Who is it suitable for: Suits warm color types - spring , autumn. Can be used on cold lips as a corrector, for cold, non-contrasting color types, heals neutral pink.
Technique: watercolor for changing the cold shade without changing the shape of the lips, lipstick for dark cold lips. To change the shape, add a bright shade suitable for the color type.
Volume: 15ml
Ingredients: AQUA, CI 12477, CI 21096, Cl 21108, CI 77891, CI 77491, ROSIN, GLYCERIN, HAMAMELIS VIRGINIANA EXTRACT, ISOPROPYL ALCOHOL, BENZYL ALCOHOL