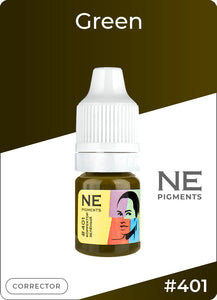 Sale
NE Pigment Modifier #401 - Green
Regular price $30.00 $60.00
Temperature: cool
Green with a brown shade.
Corrector for red and orange eyebrows. With a warm base. Heals brown, depending on the density of the red base and color packing. If the eyebrows are cold crimson (red + blue), work with the addition of a yellow corrector.
Do not dilute with water!
Do not use it as an independent color.

Volume: 15 ml
Ingredients: AQUA, CI 11740, CI 77891, CI 77266, ROSIN, GLYCERIN, HAMAMELIS VIRGINIANA EXTRACT, CI 21110, CI 74160, ISOPROPYL ALCOHOL, BENZYL ALCOHOL