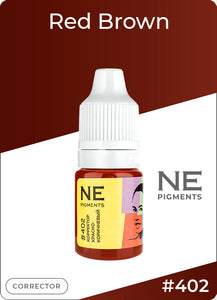 Sale
NE Pigment Modifier #402 - Red Brown
Regular price $30.00 $60.00
Temperature: very warm temperature, bright and intense red-brown color.
Modifier for gray eyebrows. To make eyebrows chestnut.
To get a warm brown on black skin, use half-and-half with chestnut or brunet, depending on the darkness of the skin.
Do not dilute with water!
Do not use it as an independent color.
Work only on the color being corrected!
Corrector for blue eyelids. Mix it with black or use it alone.
Volume: 15 ml
Ingredients: AQUA, CI 77491, CI 21110, ROSIN, GLYCERIN, CI 12477, CI 77891, CI 74160, HAMAMELIS VIRGINIANA EXTRACT, ISOPROPYL ALCOHOL, BENZYL ALCOHOL